BASF Ultrafuse® PPSU
Ultrafuse® PPSU was specially developed for FFF printing based on BASF ́s advanced Ultrason® materials. The Ultrason® resins are amorphous thermoplastics derived from polyethersulfone (PESU), polysulfone (PSU) and poly- phenylsulfone (PPSU) and ensure very high thermal resistance.
*Shipping Time: 1-2 Weeks*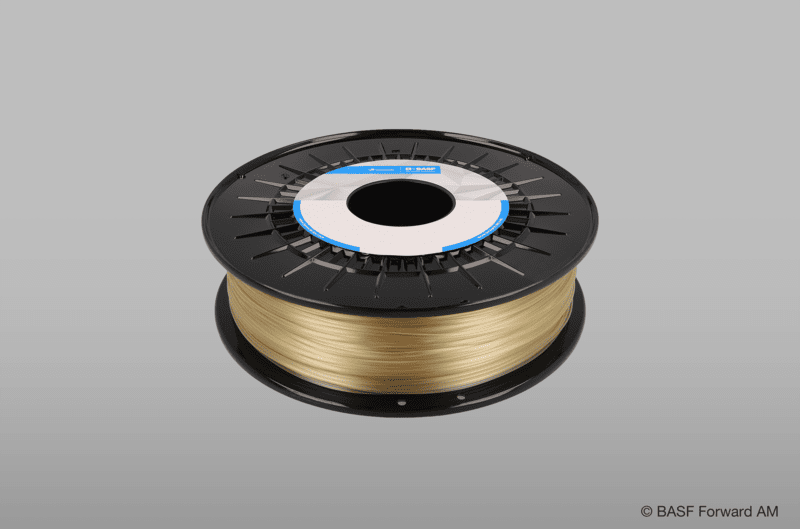 Product Details
Specifications
With its wide spectrum of material performance advantages, Ultrafuse® PPSU can be successfully used in applications where other plastics, e.g. polyamide, polycarbonate, polyoxymethylene and polyalkylene terephthalates, fail to meet the performance specifications. With its inherent flame-retardant properties, it is an especially suitable material for the aerospace industry.
Inherently flame retardant
Flame retardancy V0 according UL 94 (@1.5mm and 3.0mm)
Short-term temperature resistance up to 220 °C
Resistant to long-term service temperatures up to 180 °C
High dimensional stability
Creep strength at high temperatures
Resistant to hot water and coolants
Oil-resistant, even at temperatures up to 170 °C
Fuel and fluorine resistant
Suitable for autoclaving processes
Aerospace industry
All applications exposed to high temperatures
Ultrafuse® PPSU
Tensile Strength (MPa):

49.0 (ZX), 74.5 (XY)

Flexural Modulus (MPa):

1700 (ZX), 1910 (XZ), 1940 (XY)

Elongation at Break:

2.9 % (ZX), 7.3 % (XY)

Impact Strength Izod notched (kJ/m2):

5.3 (ZX), 15.8 (XZ), 13.7 (XY)

Impact Strength Izod unnotched (kJ/m2):

21.0 (ZX), no break (XZ), no break (XY)

HDT @ 0.45 MPa:

215°C

Nozzle Temperature:

390-410 °C

Build Chamber Temperature:

170-210 °C

Bed Temperature:

220 °C

Bed Material:

BASF fiber reinforced build sheet

Nozzle Diameter:

≥ 0.4 mm

Print Speed:

25-50 mm / s