UltiMaker S5 Productivity Bundle
LIMITED TIME OFFER!
Get a PVA Removal Station for 50% off & 3 Years of Warranty Protection FREE with the purchase of an UltiMaker S5!
WHAT'S INCLUDED?
UltiMaker S5 3D Printer

PVA Removal Station
3 Year Enhanced Service Plan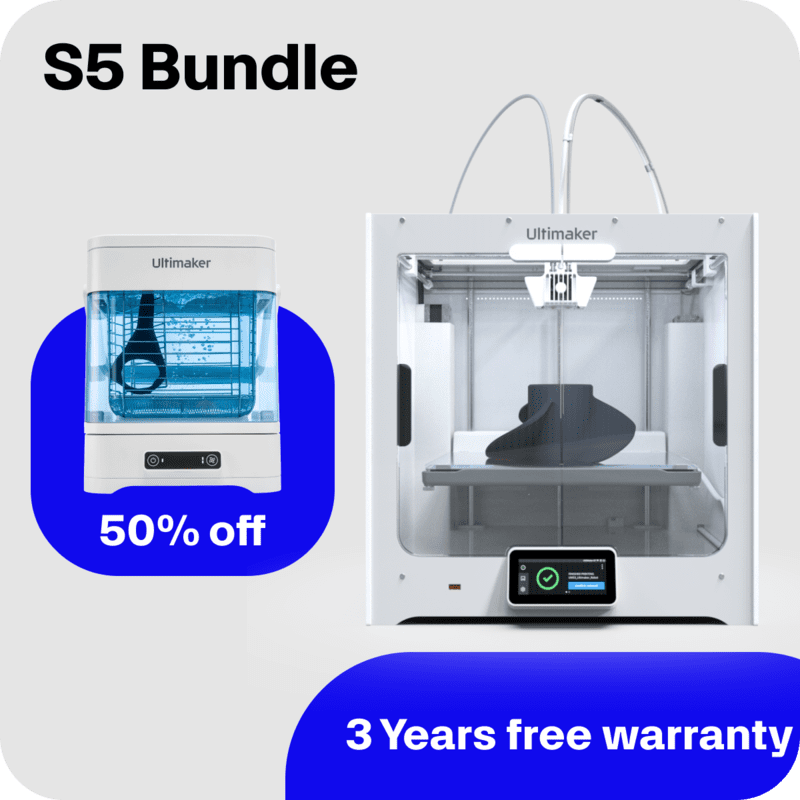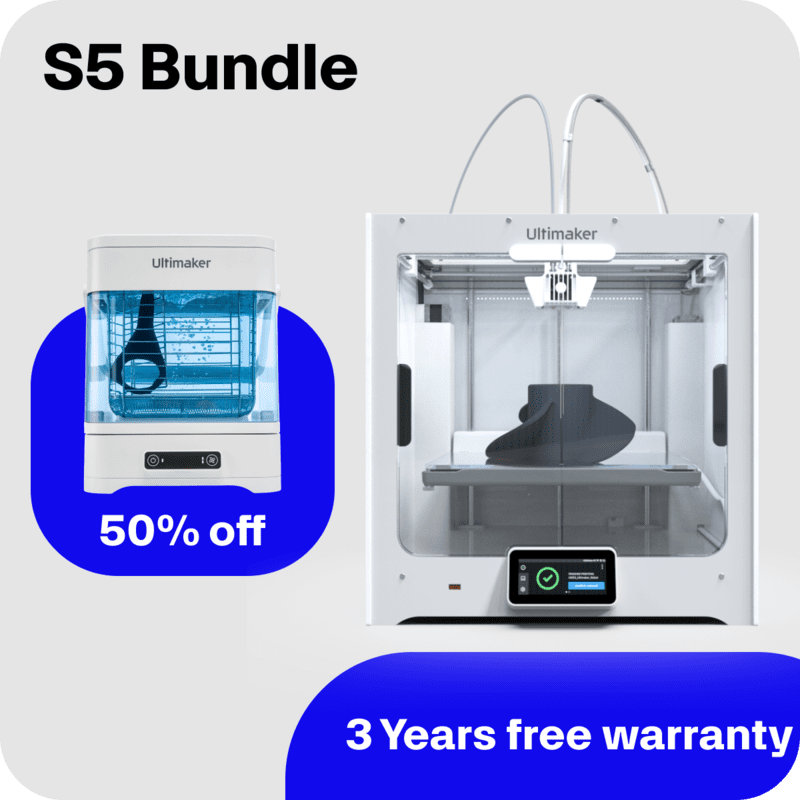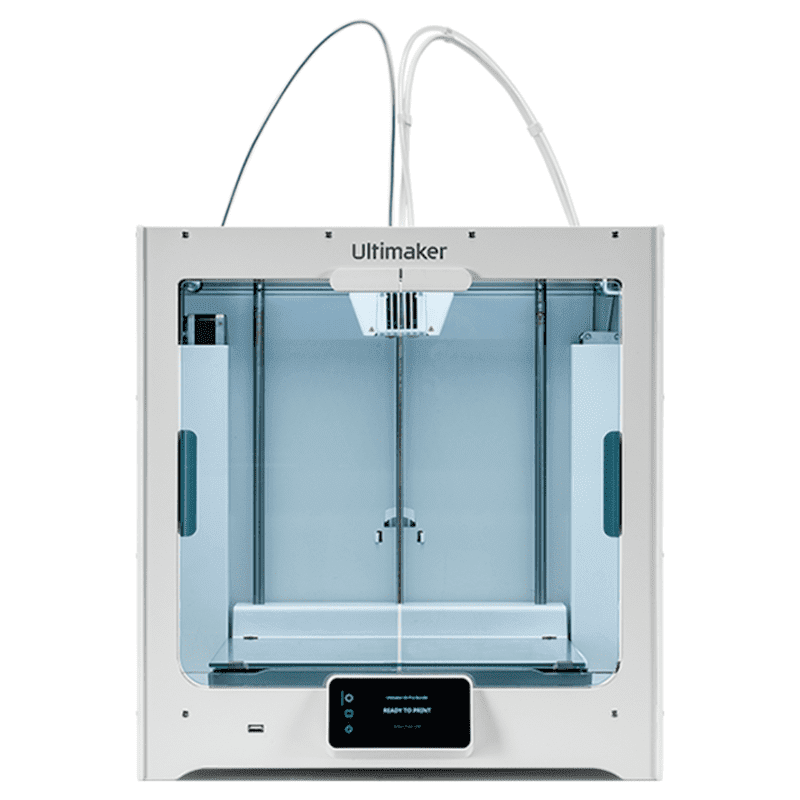 The Ultimaker S5 packs powerful technology into a small footprint. With a simple, clean, & stylish enclosure, the S5 fits perfectly into any office or workspace. An enclosed front & tinted glass doors help to ensure the internal temperature and airflow are optimal. An intuitive touchscreen interface guides you through operation of the printer, and displays detailed status information. Frame lights provide visual feedback, and project clean white light to overview and inspect your print up close. And an embedded power supply gives the printer a clean footprint, making it ideal for shelf or rack mounting.
The S5's swappable print cores allow for effortless, tool-free maintenance and maximum user control. With the ability to use different nozzle sizes (ranging from 0.8 mm for rapid prints to 0.25 mm for ultra-fine detail), users can expand their production standards to include more complex mechanical parts. The S5 offers two available print core slots in the print head, allowing users to quickly and easily select their desired combination for reliable dual-extrusion. Dual-extrusion capabilities allow the user to print with two different materials, including varying colors for aesthetic impact, or water-soluble support for full geometric freedom.
With the Ultimaker S5, 3D printing becomes a smooth process through an integrated ecosystem of software products designed to work seamlessly with each other. High-speed Wi-Fi and LAN connectivity are built directly into the S5, and regular firmware updates with new features and improvements will ultimately enhance the printer's capabilities over time. The Ultimaker Cura software ensures a seamless workflow by allowing users to prepare prints, send them to the printer wirelessly, and monitor jobs remotely with the printer's integrated camera.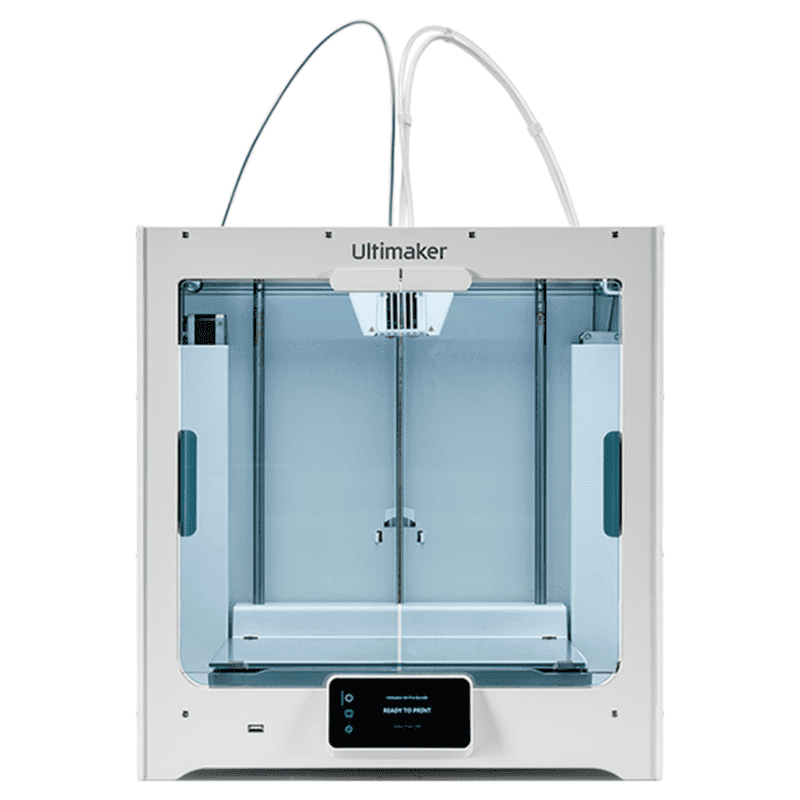 Faster parts Experience quicker and easier post-processing when using PVA support material for complex parts or stunning visual prototypes, with the UltiMaker PVA Removal Station. Part of our start-to-finish 3D printing platform, it ensures quicker design iterations with minimal operator time and no mess.

The UltiMaker PVA Removal Station features a highspeed dissolving process driven by a magnetic rotor. Compared with motionless water in an improvised container, it removes PVA up to four times faster – even from hard-to-reach cavities in complex designs. So you have parts ready as soon as possible.