Flashforge Adventurer 4 Pro
A fast, compact, & affordable FFF 3D printer ideal for a variety of applications.
30-point auto leveling sensor.

PEI build plate.

Up to 300mm/s print speed.

0.4-265 hardened nozzle.

Upgraded extruder fan structure.

HEPA 13 air filter.

Built-in camera.
*In Stock — Ready to Ship!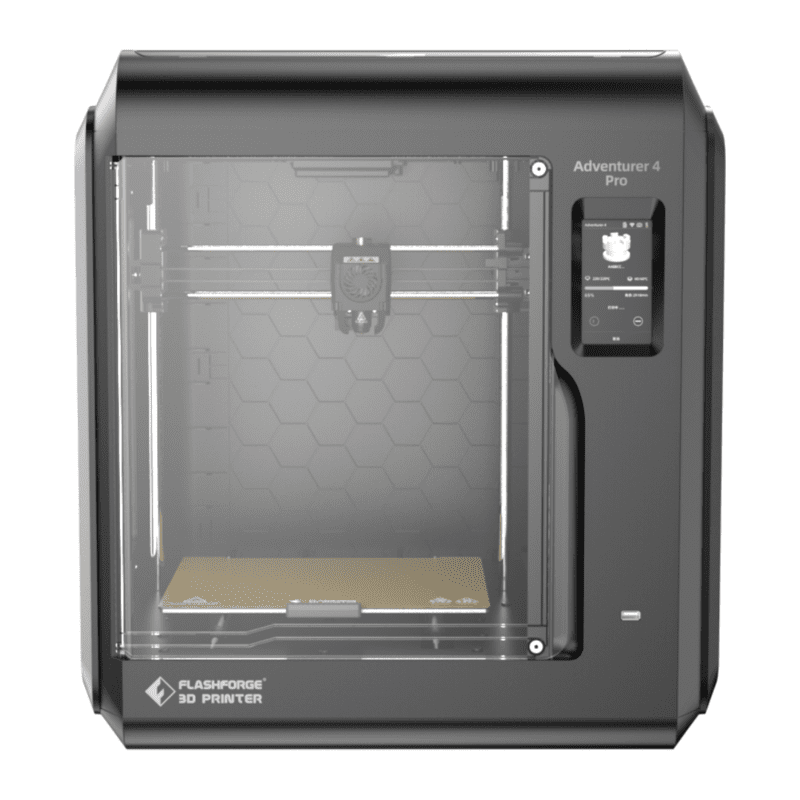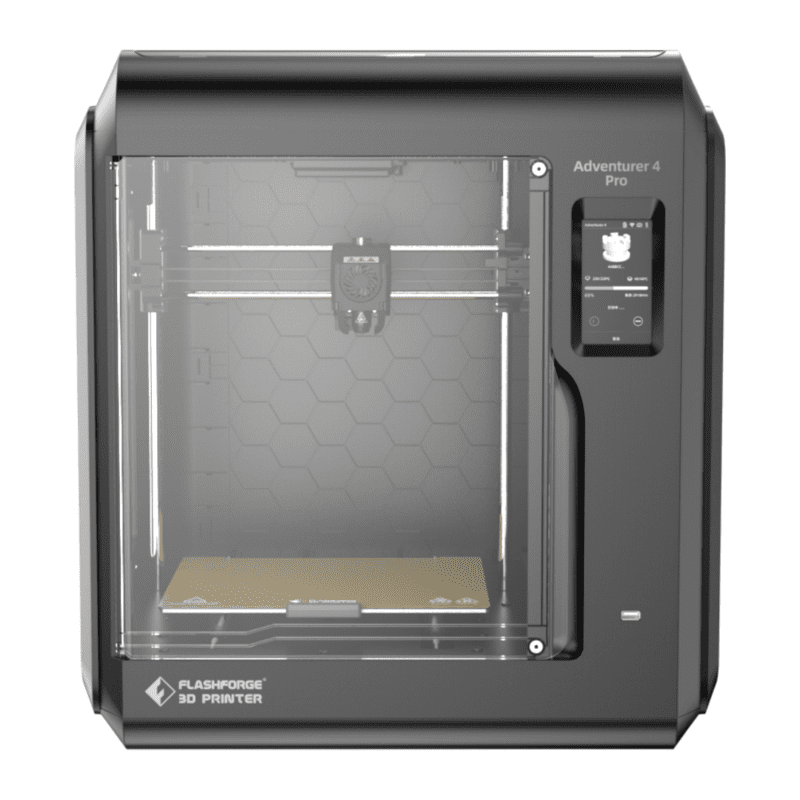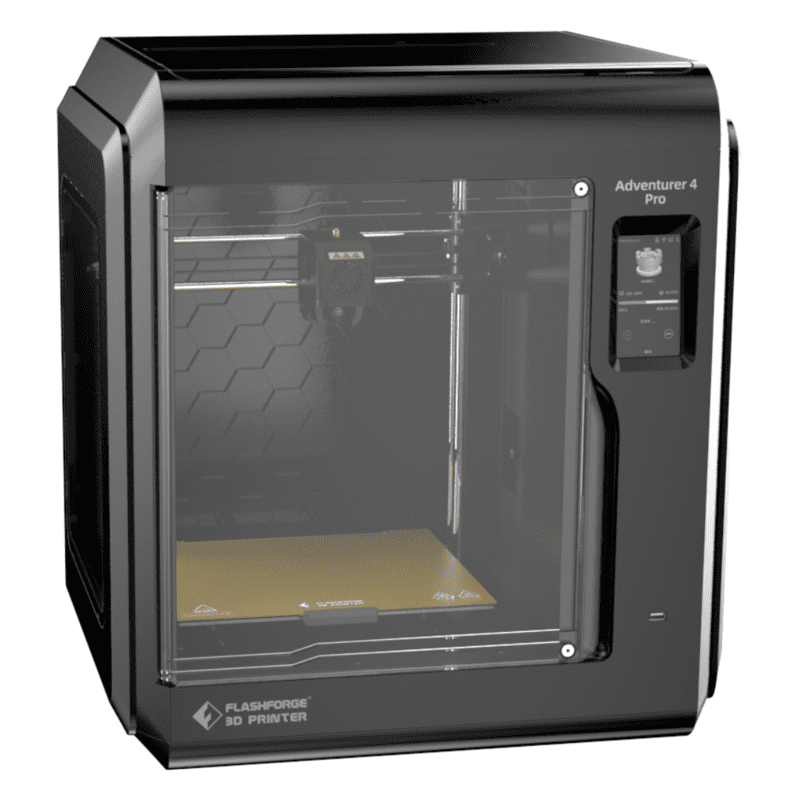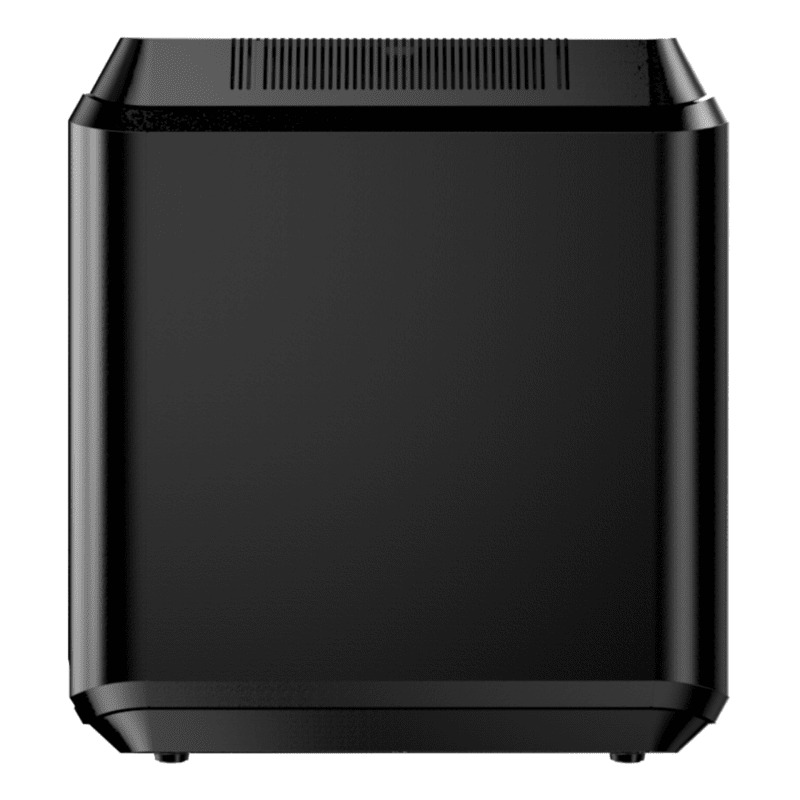 Product Details
Specifications
The Flashforge Adventurer 4 Pro yields a higher level of print quality. With a 30-point automatic leveling system, 4X faster printing speed, a 3-fan extruder, and multi-material compatibility, its features provide an efficient & easy-to-use experience for individuals, families and educational users.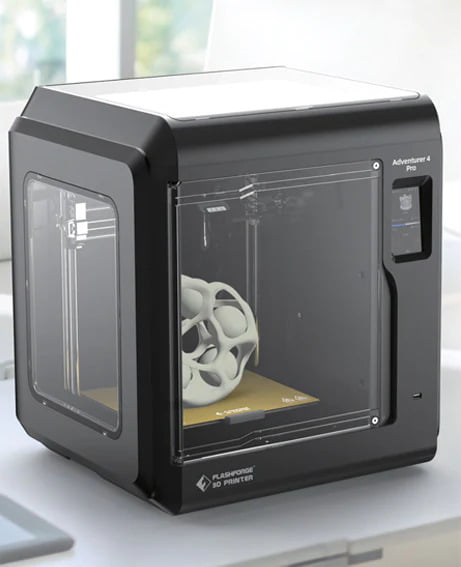 How Do I Get the Perfect First Layer?
The first layer plays a huge role in a print's success. The Adventurer 4 Pro adopts 30-point automatic plane compensation and PEI flexible steel plate to double guarantee a delicate and flawless first layer.
The Adventurer 4 Pro 3D printer also features a brand-new automatic leveling system that allows the equipment to automatically perform leveling operations with just a few taps on the screen, eliminating the need for manual nut adjustment and freeing your hands.
With the touch screen operation system, and clear and intuitive UI interfaces, printing is easy to get started.

0.4mm-240℃ high-speed nozzle, with upgraded internal heat conduction structure and higher thermal fusion efficiency, ensuring good model quality under high-speed printing.
0.6mm-265℃ high-strength nozzle, with good wear resistance, supporting long-term printing of carbon fiber materials.
4X Speed Up, Excel in Efficiency
Flashforge Adventurer 4 Pro 3D printer features 4X faster printing speed and supports up to 300 mm/s;
On the premise of ensuring the model quality, it not only improves the printing efficiency, but also saves the printing time.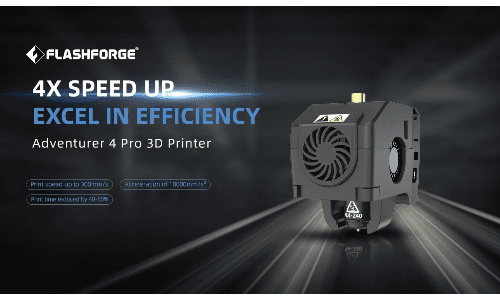 Support Multi-material Applications
Multi-diameter nozzles available: 0.3/0.4/0.6mm, Free choice of high fineness and high efficiency 240/265℃ nozzles optional, matching multiple filaments:
ABS / PLA / PETG / PLA-CF / PETG-CF
Flashforge Adventurer 4 Pro
Extruder Quantity:

1

Printing Precision:

±0.1 mm(Testing based on 100mm cubes)

Printing Speed:

Standard speed:200mm/s;Maximum speed: 300mm/s

Nozzle Diameter:

0.4mm (Default); 0.6/0.3mm (optional)

Working Temperature:

15-30℃

Maximum Extruder Temperature:

265℃

Maximum Platform Temperature:

110℃

Supported Filament:

ABS, PLA, PETG, SILK, PLA-CF, PETG-CF, High Speed PLA, High Speed PETG

Compatible Slicing Software:

Flashprint

Power Supply:

AC100-240V/DC 24V/13.3A,320W

Air Filter System:

HEPA 13

Auxiliary Leveling:

Auto-leveling (30-point leveling)

Connectivity:

USB flash drive/ Wi-Fi

Flexible & Removable Build Plate:

PEI steel plate

Certification:

CE / FCC / RoHS