UltiMaker S3
The Ultimaker S3 has taken the best features from the S5 and combined them into a smaller, more affordable device. The S3 delivers the same high-quality, composite-ready dual extrusion, with the same market-leading reliability and ease of use – just with a smaller build volume (230 x 190 x 200 mm or 9.1 x 7.4 x 7.9 inches).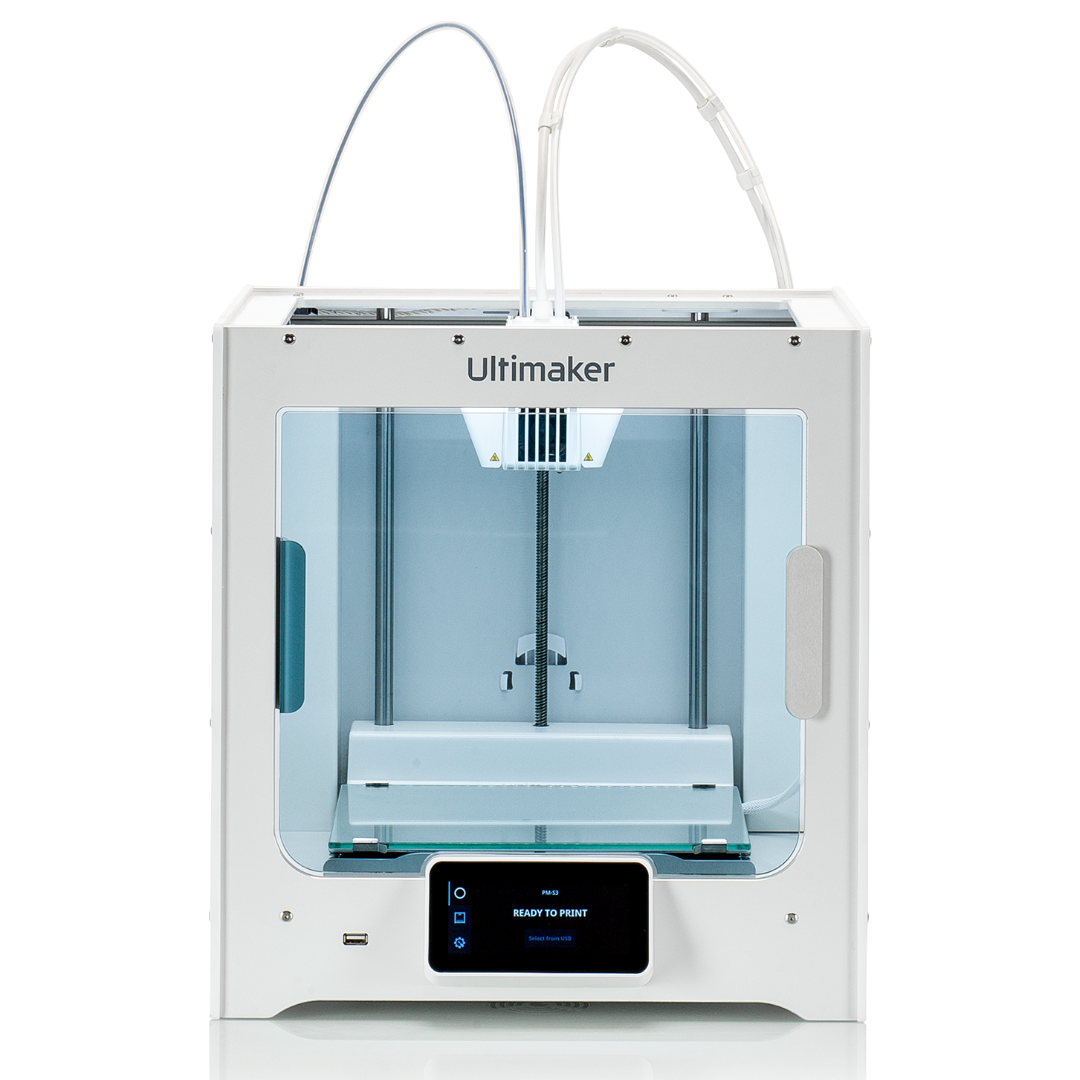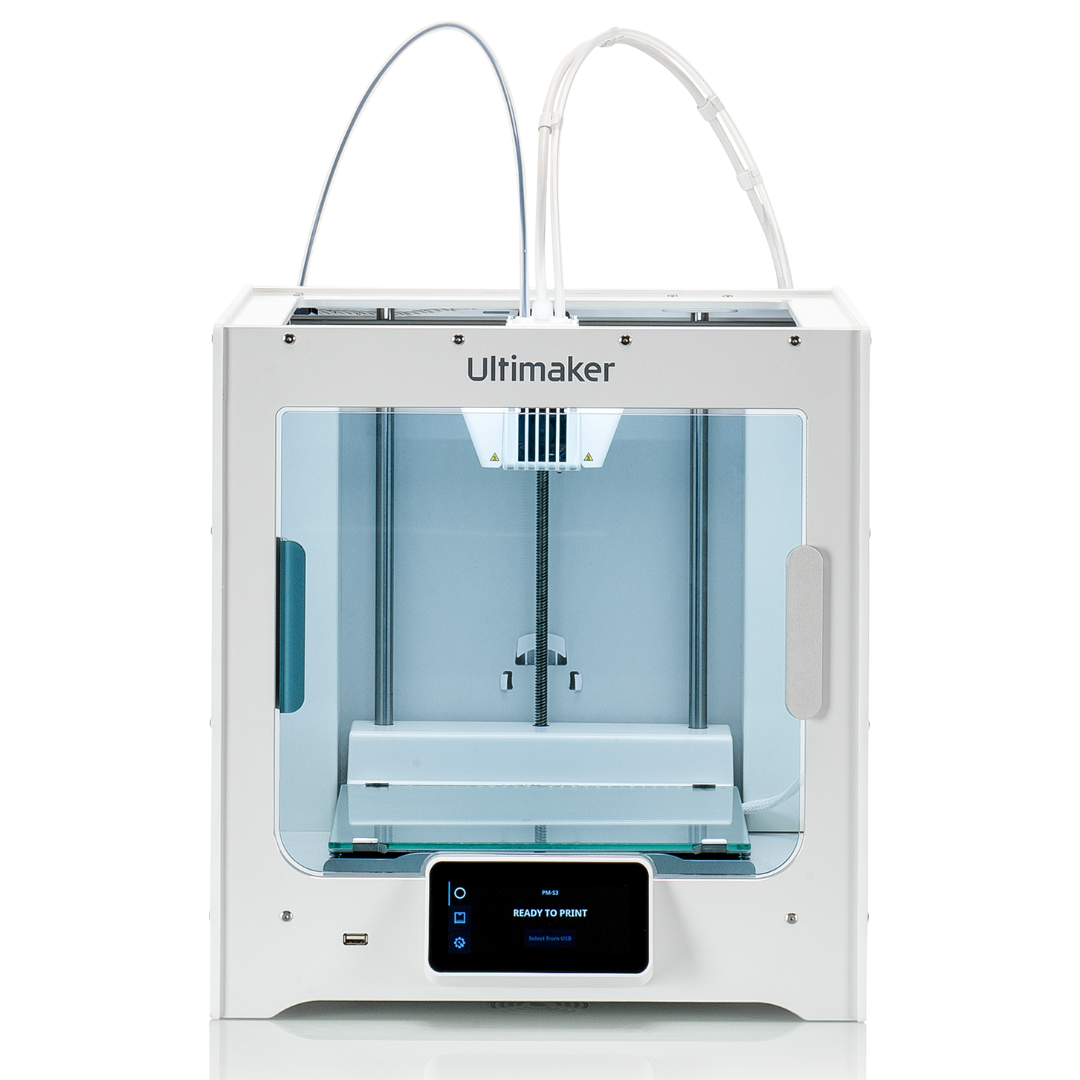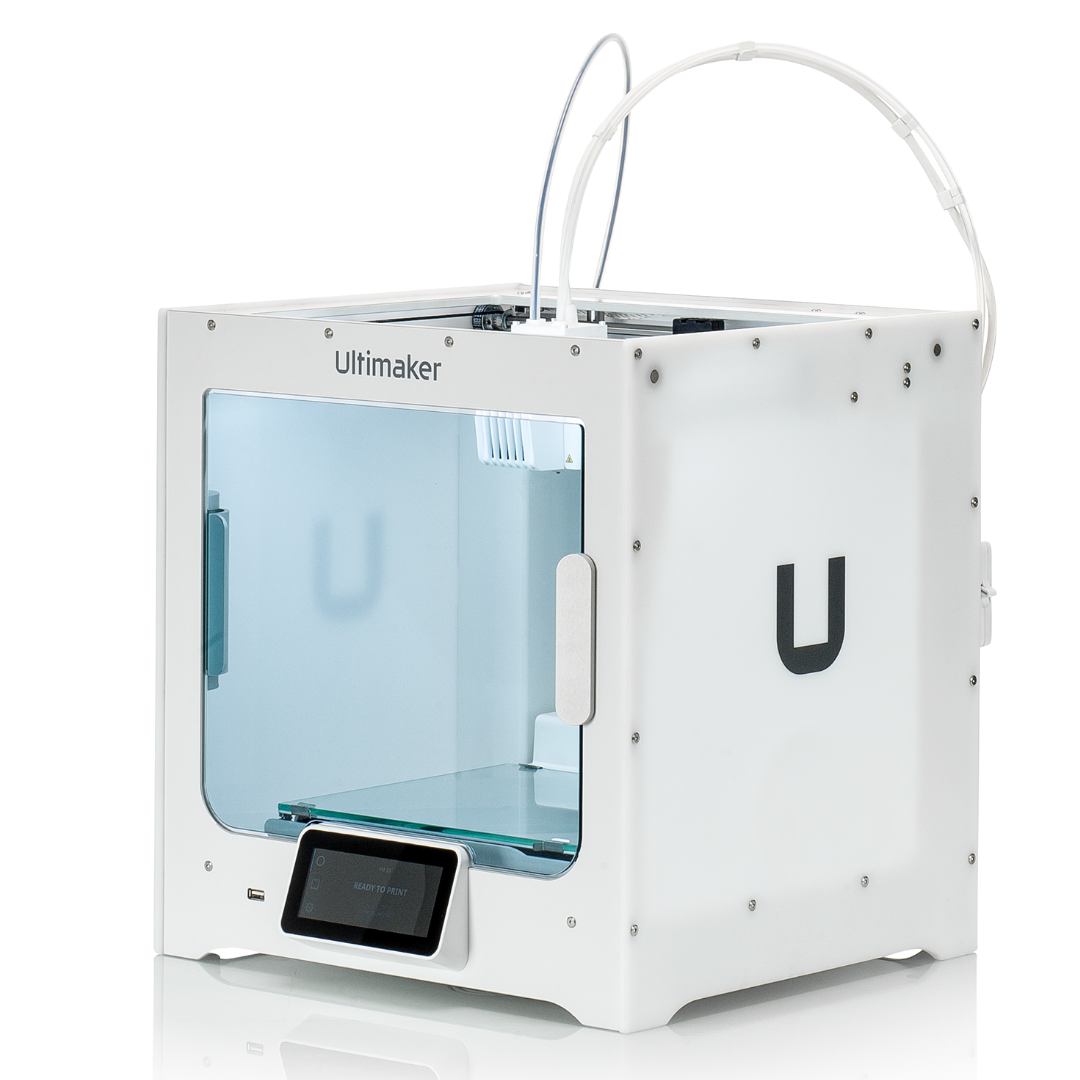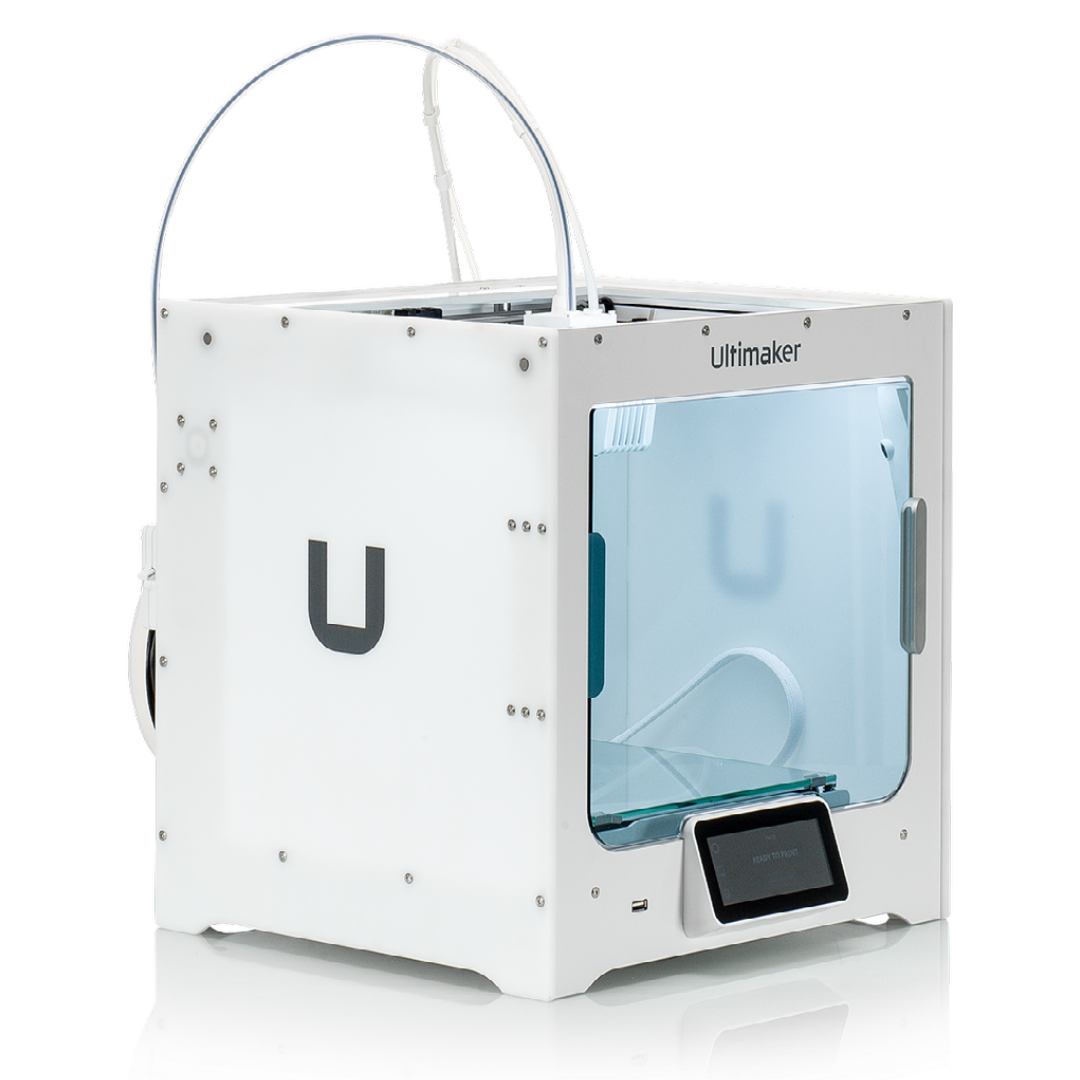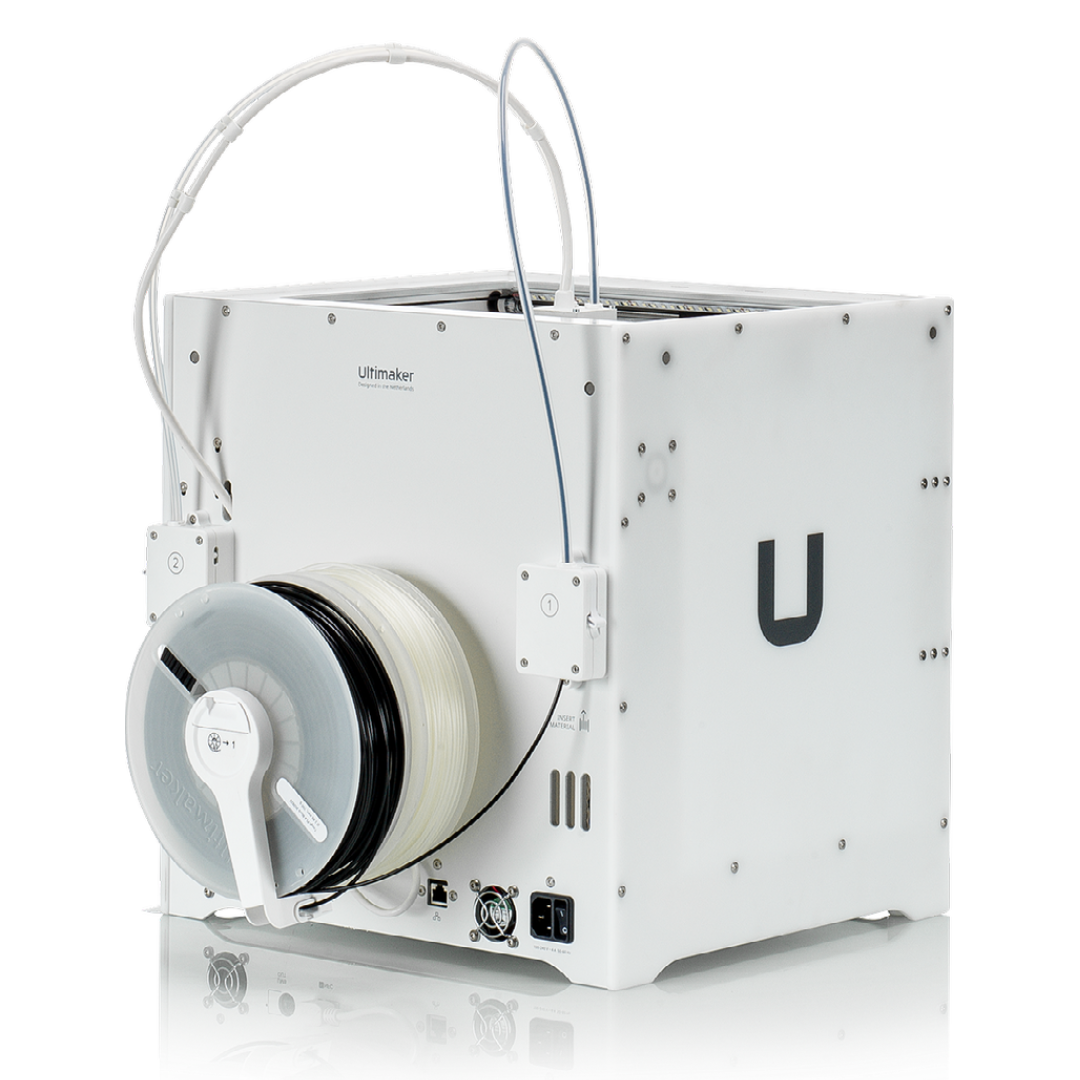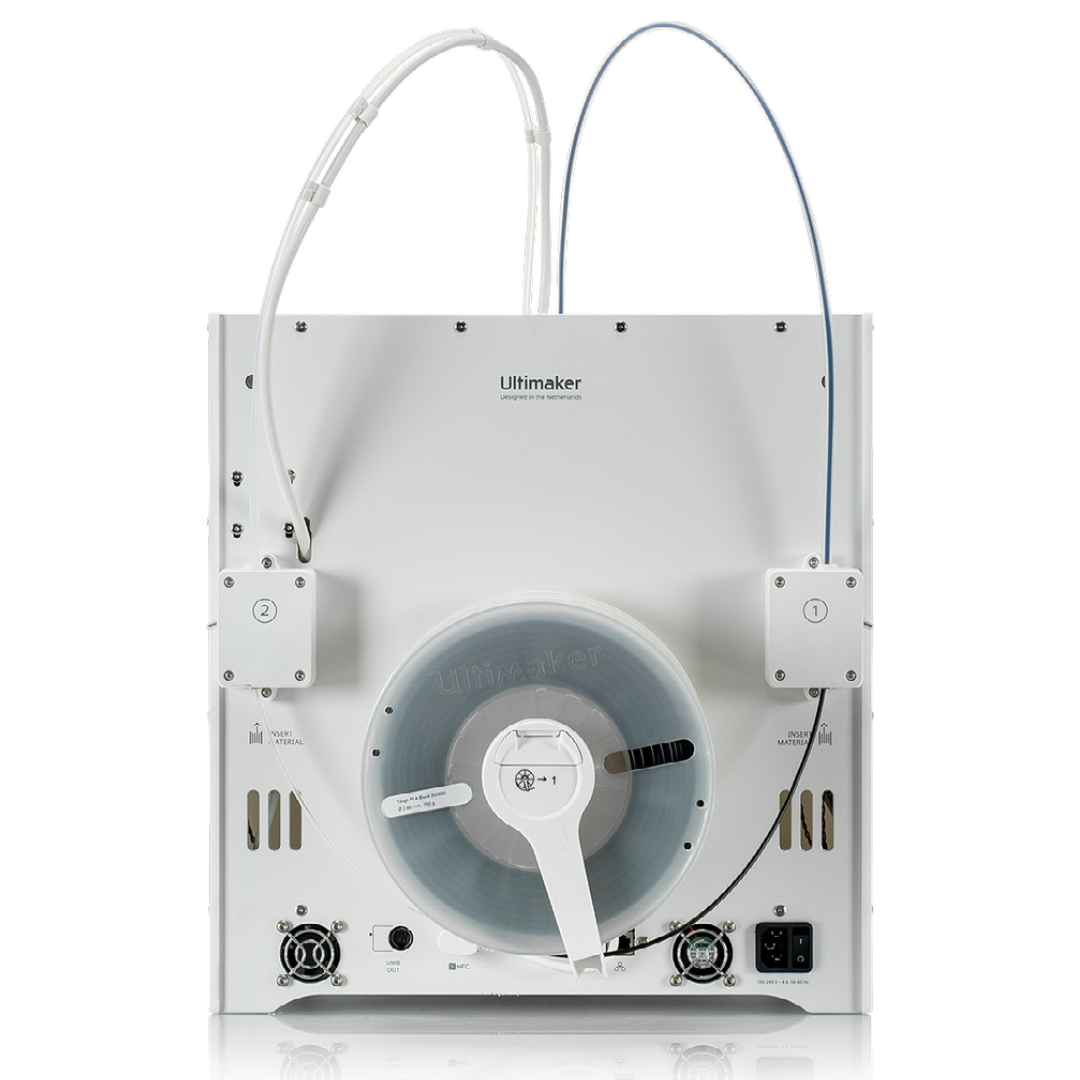 Product Details
Specifications
Every detail of the Ultimaker S3 has been designed and built to deliver professional S-line print quality. Inside the Ultimaker S3, you'll find:
Reinforced feeder wheels

made from coated, hardened steel. These enable abrasion-resistant 3D printing for high-strength parts using glass or carbon fiber composites (when paired with Ultimaker print core CC Red)
Dual filament flow sensors

that increase your print success rate. If you run out of filament, they pause your print and notify you to add a new spool
Advanced active leveling

that ensures easy and reliable first-layer adhesion. Begin a print job and get on with your work, thanks to precise build area probing and Z-height build plate compensation at the start of every print job
High-accuracy stepper drivers

taken directly from the Ultimaker S5. These high-precision drivers are quieter than the Ultimaker 3 and run more reliably
Rigid printer frame

reduces small vibrations (or ringing) while printing to improve overall print quality
Single glass door

with a magnetic latch provides a more controlled build environment to reduce the risk of warping or delamination
Optimized internal design

allowing both dual extrusion nozzles to reach the whole build area, while maintaining a high build-volume-to-size ratio
Internal power supply

removes the need to make space for a power brick. It also makes the setup process easy across all S-line 3D printers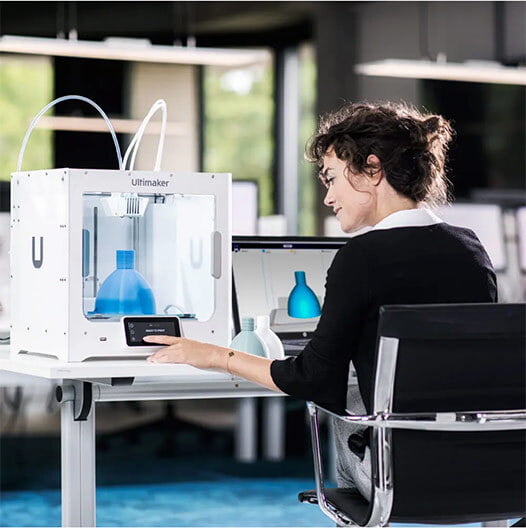 Seamless Workflow Integration
With its low annual cost of ownership, the Ultimaker S3 offers users an affordable entry to professional 3D printing, making ROI easy and fast to achieve. A seamless hand-off between software and hardware delivers an end-to-end solution that accelerates in-house production workflow, meaning that entrepreneurs and those using additive manufacturing now have a lower barrier to entry – without needing to compromise on performance.

Powerful & Efficient
Inside an efficiently small footprint suitable for any desk, the Ultimaker S3 delivers composite-ready dual extrusion that your process can rely on. With market-leading technology, the S3 is as easy to use as it is powerful. It displays step-by-step setup, navigation, and maintenance, ultimately reducing the learning curve. In fact, customers have stated that they feel confident enough to start printing their own designs after only a 30-minute introduction period — so there's no need to spend money on a dedicated operator.

UltiMaker S3
XY Positioning Precision:

6.9 microns

Z Positioning Precision:

2.5 microns

Build Volume:

23 x 19 x 20 cm [9.05 x 7.48 x 7.87 in]

Print Head:

Dual-extrusion head with an auto-nozzle lifting system Swappable print cores (maximum 280C)

Extrusion Speed:

24 mm^3/s

Nozzle Diameter:

0.4 mm Print Core (included), 0.25 mm, 0.4 mm, 0.6 mm, and 0.8 mm Print Cores available

Build Platform:

Heated glass build plate (maximum 140C)

Bed Leveling:

Active

Print Technology:

FFF

Filament Diameter:

2.85 mm [.1122 in]

Feeder Type:

Dual-geared feeder, reinforced for composite materials

Printer Dimensions (including Bowden tube/filament spool holder):

39.4 x 48.9 x 63.7 cm [15.51 x 19.25 x 25.08 in]

Shipping Dimensions:

53.3 x 55.9 x 61 cm [21 x 22 x 24 in]

Printer Weight:

14.4 kg [31.7 lbs]

Printer Shipping Weight:

20.9 kg [46 lbs]

Supported File Types:

STL, OBJ, X3D, 3MF, BMP, GIF, JPG, PNG

Operation Temperature:

15-32 C [59-90 F]

Average Operation Noise:

50 dBA

Storage Temperature:

0-32 C [32-90 F]