UltiMaker S3 Productivity Bundle
LIMITED TIME OFFER!
Get a PVA Removal Station for 25% off & 3 Years of Warranty Protection FREE with the purchase of an UltiMaker S3!
WHAT'S INCLUDED?
UltiMaker S3 3D Printer




PVA Removal Station

3 Year Enhanced Service Plan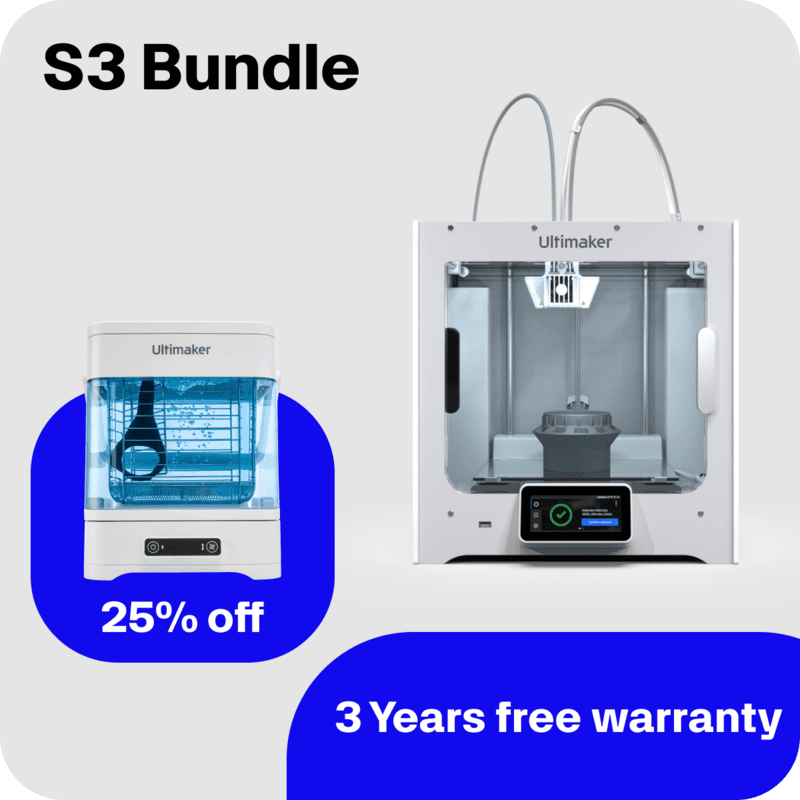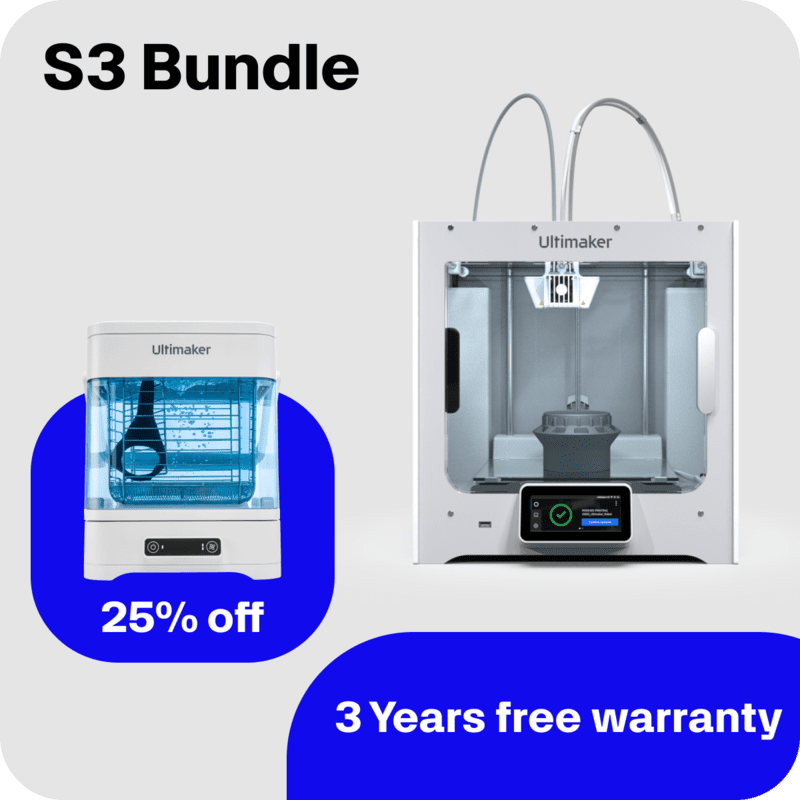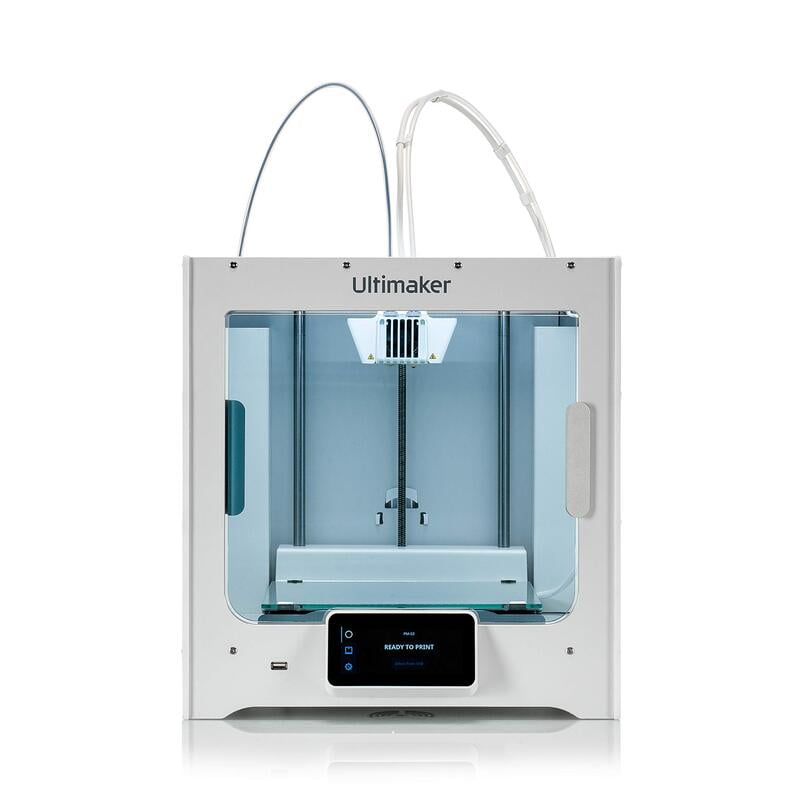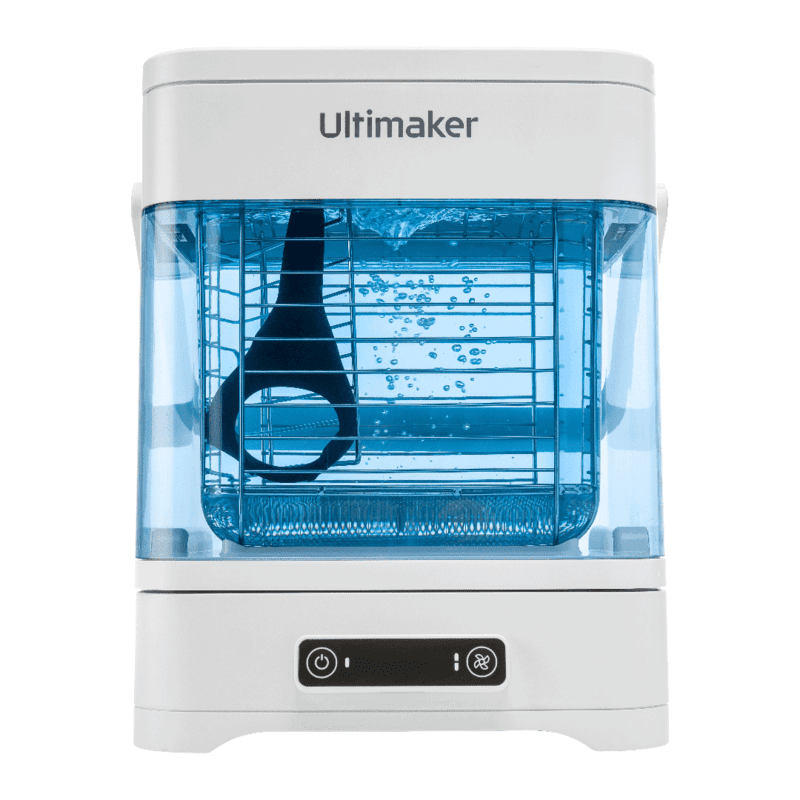 Product Details
Specifications
With its low annual cost of ownership, the Ultimaker S3 offers users an affordable entry to professional 3D printing, making ROI easy and fast to achieve. A seamless hand-off between software and hardware delivers an end-to-end solution that accelerates in-house production workflow, meaning that entrepreneurs and those using additive manufacturing now have a lower barrier to entry – without needing to compromise on performance.
Inside an efficiently small footprint suitable for any desk, the Ultimaker S3 delivers composite-ready dual extrusion that your process can rely on. With market-leading technology, the S3 is as easy to use as it is powerful. It displays step-by-step setup, navigation, and maintenance, ultimately reducing the learning curve. In fact, customers have stated that they feel confident enough to start printing their own designs after only a 30-minute introduction period — so there's no need to spend money on a dedicated operator.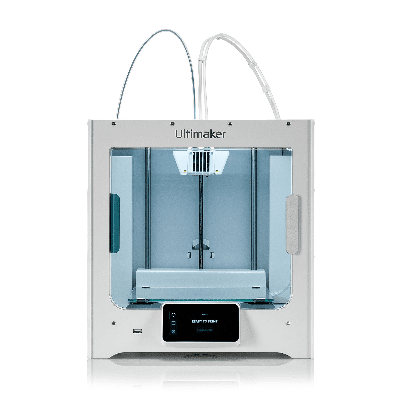 Faster parts Experience quicker and easier post-processing when using PVA support material for complex parts or stunning visual prototypes, with the UltiMaker PVA Removal Station. Part of our start-to-finish 3D printing platform, it ensures quicker design iterations with minimal operator time and no mess.
The UltiMaker PVA Removal Station features a highspeed dissolving process driven by a magnetic rotor. Compared with motionless water in an improvised container, it removes PVA up to four times faster – even from hard-to-reach cavities in complex designs. So you have parts ready as soon as possible.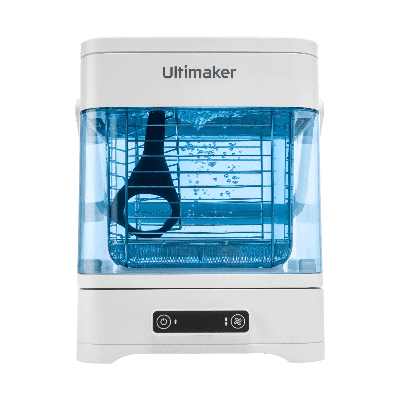 UltiMaker S3
XY Positioning Precision:

6.9 microns

Z Positioning Precision:

2.5 microns

Build Volume:

23 x 19 x 20 cm [9.05 x 7.48 x 7.87 in]

Print Head:

Dual-extrusion head with an auto-nozzle lifting system Swappable print cores (maximum 280C)

Extrusion Speed:

24 mm^3/s

Nozzle Diameter:

0.4 mm Print Core (included), 0.25 mm, 0.4 mm, 0.6 mm, and 0.8 mm Print Cores available

Build Platform:

Heated glass build plate (maximum 140C)

Bed Leveling:

Active

Print Technology:

FFF

Filament Diameter:

2.85 mm [.1122 in]

Feeder Type:

Dual-geared feeder, reinforced for composite materials

Printer Dimensions (including Bowden tube/filament spool holder):

39.4 x 48.9 x 63.7 cm [15.51 x 19.25 x 25.08 in]

Shipping Dimensions:

53.3 x 55.9 x 61 cm [21 x 22 x 24 in]

Printer Weight:

14.4 kg [31.7 lbs]

Printer Shipping Weight:

20.9 kg [46 lbs]

Supported File Types:

STL, OBJ, X3D, 3MF, BMP, GIF, JPG, PNG

Operation Temperature:

15-32 C [59-90 F]

Average Operation Noise:

50 dBA

Storage Temperature:

0-32 C [32-90 F]