Sinterit Powder Handling Set
The Sinterit Powder Handling Set is the complete set of Sinterit tools necessary for working professionally with SLS powders. The set includes:
Powder Handling Station
ATEX Vacuum Cleaner
Powder Separator + Container
User manuals
With this complete bundle of tools, users can work comfortably & efficiently in a clean workspace. These professional tools also allow for maximum powder recovery, which can help to significantly reduce costs.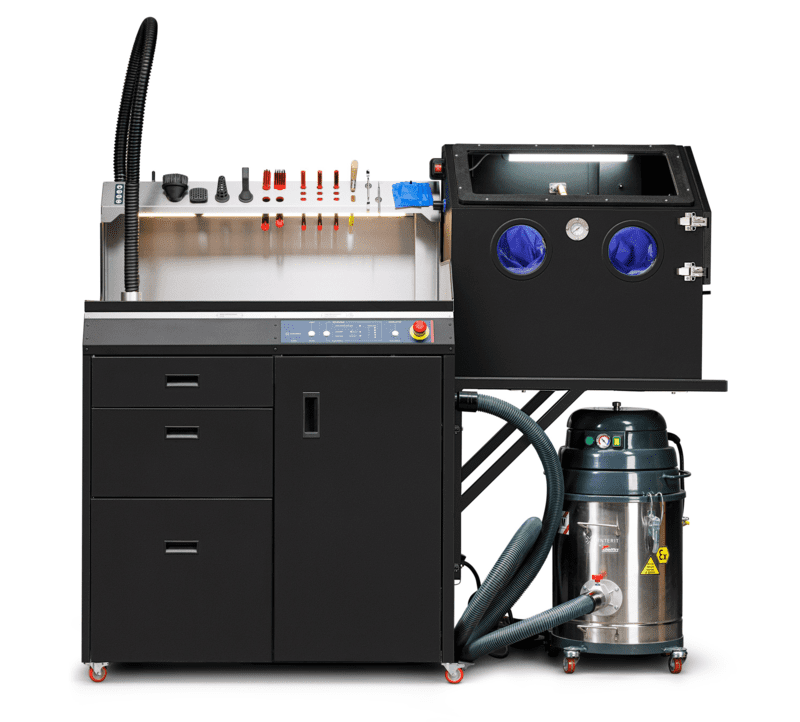 Clean your printer and collect the unused powder in just 10 minutes. Save time and money.


Use the ATEX Vacuum with powder separator not only to clean, but also to collect unsintered powder into a dedicated container, quickly preparing it for your next print.
The ATEX Vacuum Cleaner allows you to clean your workspace & recover unsintered powder.


With the ATEX Vacuum you can gather powder spilled during printout clean up – from both the workshop and the printout surface. And it's 100% safe.
Minimize your workflow: collect powder and clean your workspace with a single device
.
​Use the Sinterit separator to automatically transfer collected powder into the dedicated container, with no manual transfer required. The powder can then be easily poured into the Sinterit Sieve, or closed in the container and left for further processing.
Complete all elements of post-processing & powder recovery in one concise location.


Paired with the ATEX Vacuum cleaner & Sandblaster, the powder handling station allows for all elements of post processing & powder collection to take place in one central location for users.

​
Item Specifications:
| | |
| --- | --- |
| | ​​700 x 1000 x 1800 [mm] / 27.6 x 39.4 x 70.9 [in] |
| | 160 kg / 352.7 lbs |
| | ​1700 x 2200 x 1800 / 66.9 x 86.6 x 70.9 |
| | ​230 [V] AC, 50/60 [Hz] or 110 [V] AC 50/60 [Hz] |
| | ​110/230 V AC, 12 VDC 6.67 A, 80W |
| | |
| --- | --- |
| Dimensions: | ​440 x 420 x 780 mm |
| Weight: | ​25 kg |
| Power: | 1.1 kW |
| Voltage: | 230 V AC, 50/60 Hz or 110 V AC 50/60 Hz |
| Noise level (EN ISO 3744): | 77 dB(A) |
| Max. air flow (rate): | 215 m³/h |
| Suction inlet: | 50 mm |
| Filter type: | Star, M class filtration |
| Capacity of the collection unit: | ​40 L |
| ATEX zones: | ​Z22 or INTERTEK certification |
| | |
| --- | --- |
| ​Dimensions: | ​550 x 305 x 300 mm |
| Weight: | ​5 kg |
| Max. air flow rate: | 215 m³/h |
| Suction inlet: | 32 mm |
| Capacity of collection unit: | ​12 L |