UltiMaker S5 / S7 Material Station
Productivity to Power Your Business.
Seamlessly integrating with the UltiMaker S5 or the UltiMaker S7, the Material Station redefines material handling to unlock truly 24/7 production.
Load up to six (6) material spools inside the humidity-controlled chamber and the smart features will take care of the rest – composite-ready feeder wheels, filament flow sensors, and automatic switching when material runs out. Now you can achieve increased productivity and higher-quality production.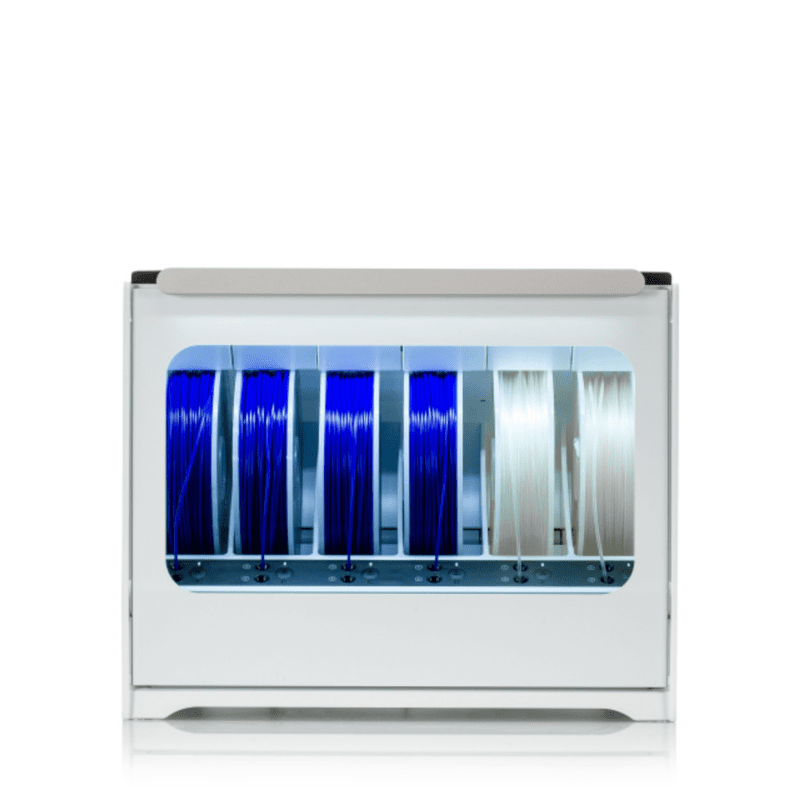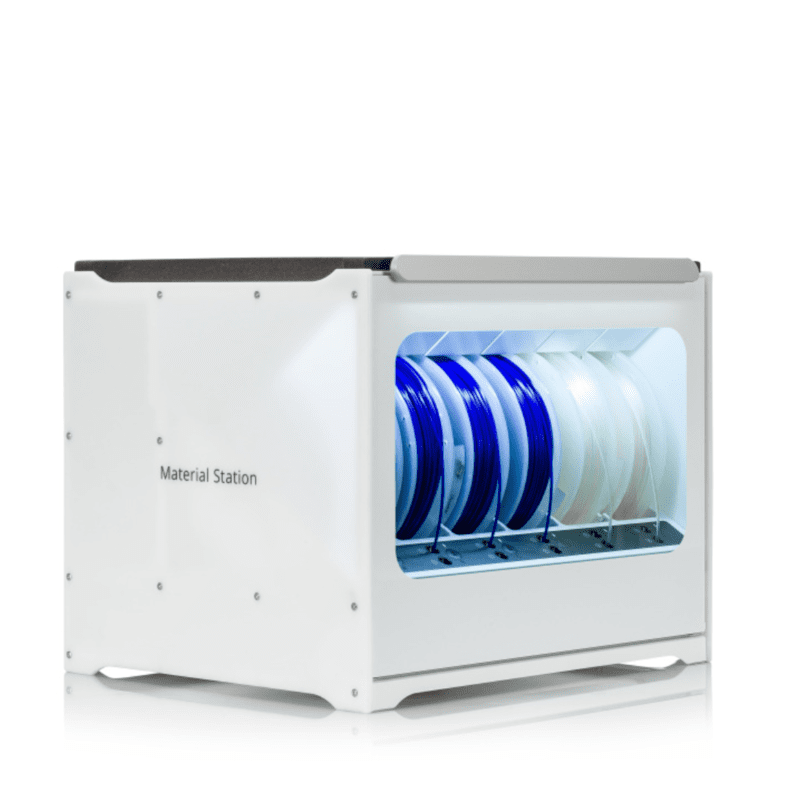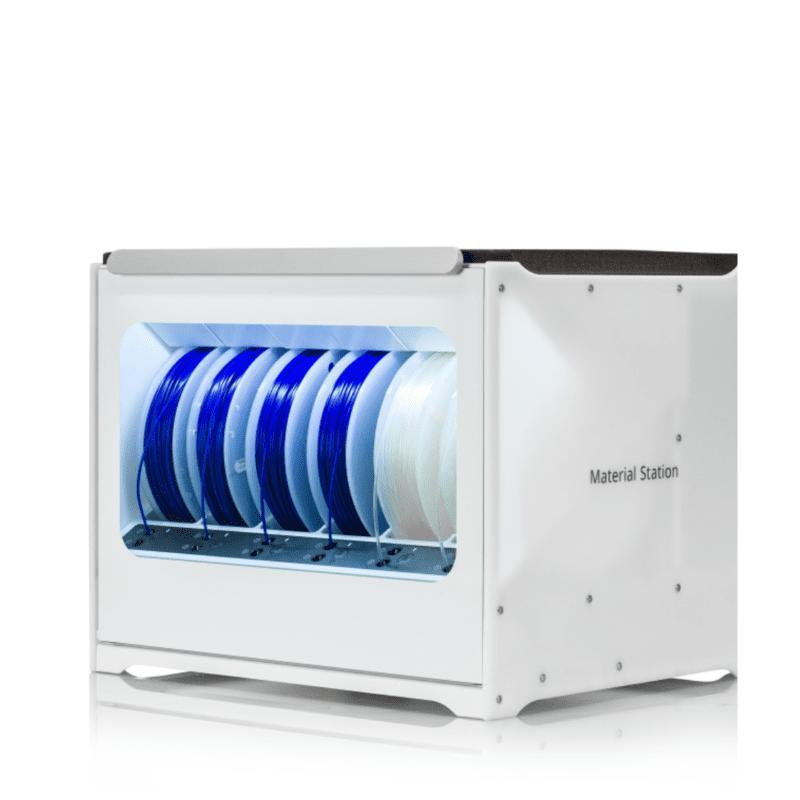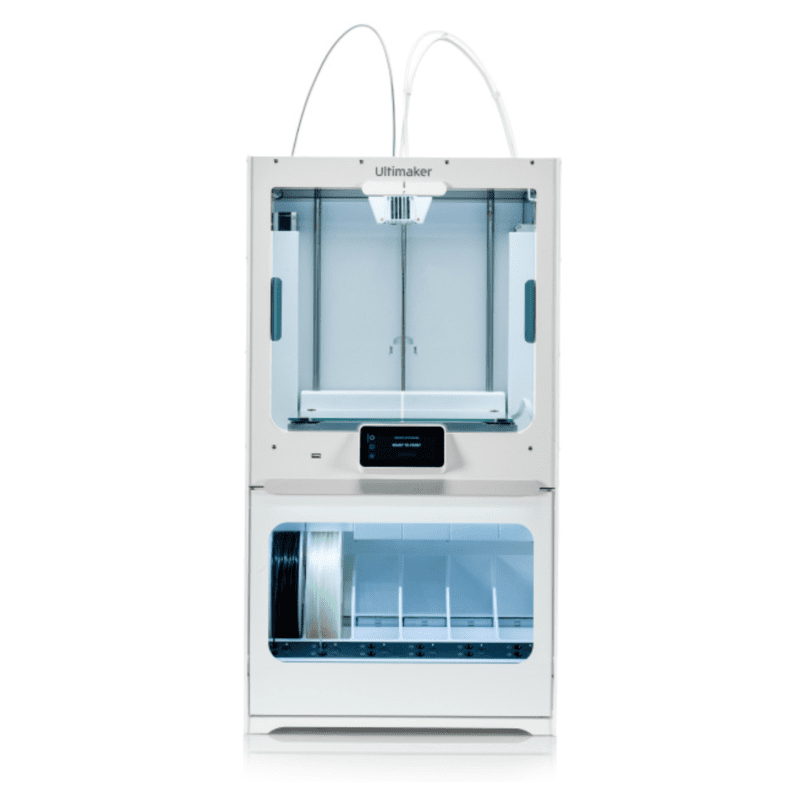 Product Details
Specifications
Simplify your 3D Printing Workflow
Front-load materials in seconds, configure to your needs, and stop worrying about material storage conditions. The Ultimaker Material Station is also fully integrated into our software tools, so you stay informed and 100% focused on doing your best work.
A remarkable feature of the S5 and S7 is their ability to harness the potential of the CC Print Core and Ionic Hi-Temp Hybrid Support Material. This dynamic combination allows for the creation of large, intricate parts using advanced composite materials like NylonX and NylonG. It's worth noting that materials such as Nylon, Ionic, and PVA are all hygroscopic, meaning they tend to absorb moisture from the surroundings, potentially compromising print quality.
To combat this challenge, the Ultimaker Materials Handling Station comes to the rescue. Equipped with an enclosed, humidity-controlled chamber, it effectively mitigates moisture-related issues. With this solution in place, you can confidently venture into 3D printing with hygroscopic materials on the Ultimaker S5, knowing that your prints will be protected by the controlled environment provided by the Ultimaker Materials Handling Station.
Fast and easy loading:

Front-facing bay for up to six materials reduces loading time to a few seconds
Uninterrupted printing:

Sensors detect when one material spool ends and automatically loads the next
Humidity control:

Intelligent atmospheric management keeps relative humidity below 40%
Easy setup and monitoring:

NFC material autorecognition and seamless integration with Ultimaker software
Composite materials compatible:

Print parts with high strength and unique properties
Limitless configurations:

Keep your most-used materials ready to print when you need – Ultimaker and third-party filaments
UltiMaker Material Station
Filament Diameter:

2.85mm

Spool Width:

50 - 70mm (2 - 2.7in)

Spool Diameter:

197 - 203mm (7.8 - 8in)

Spool Core Diameter:

3.8in

Material Capacity:

6 Spools

Material Identification:

Ultimaker materials with NFC are automatic, 3rd party materials are manual

Feed Type:

Dual-drive, abrasion-resistant gears

Printer Compatibility:

UltiMaker S5, UltiMaker S7

Dimensions:

491 x 438 x 400mm (19.3 x 17.2 x 15.7in)

Weight:

17.7kg (39lbs)

Warranty:

12 months