Sinterit PA11 CF (Carbon Fiber)
(6KG)
PA 11 Carbon Fiber is a composite material produced from bio-derived castor oil powder, primarily consisting of Polyamide 11, and enriched with Carbon Fiber to improve its performance and rigidity. This material boasts an impressive combination of attributes, including a superior strength-to-weight ratio and excellent thermal characteristics.
With its harmonious blend of mechanical and thermal properties and the added benefit of maintaining robust impact strength, it stands out as one of the most formidable and adaptable options within the SLS powder market.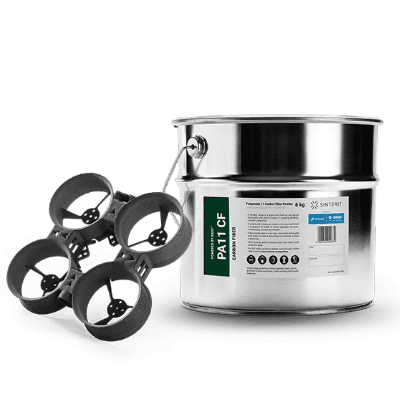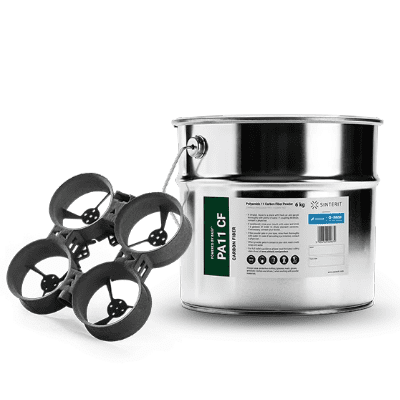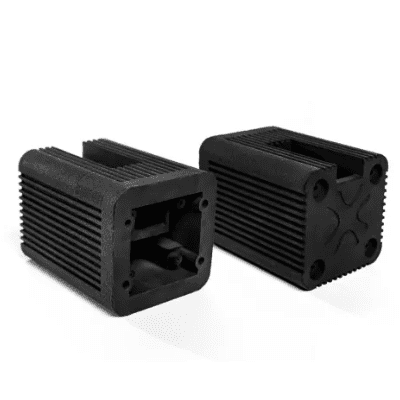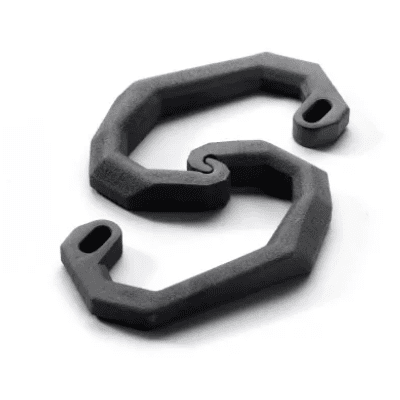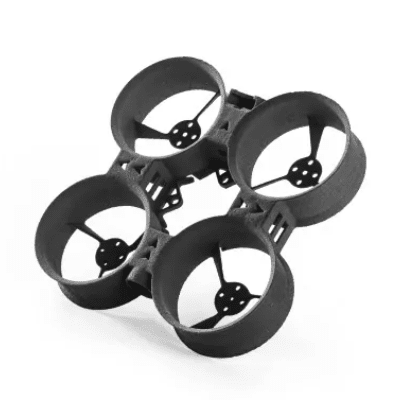 Product Details
Specifications
Key Characteristics:
Highest tensile and flexural strength

Exceptional thermal resistance

Reliable impact resistance

Remarkable stiffness

Satisfactory elongation at the point of break

Excellent surface quality

Strong chemical resistance
Applications:
Automotive (for high-performance and metal replacement parts)

Educational institutions and laboratories (specifically for mechanical and composite purposes)

Extreme environments (such as motorsports, lightweight structures, and high-temperature applications)

Maintenance and repair projects

Medical field (including prosthesis development)

Aerospace model manufacturing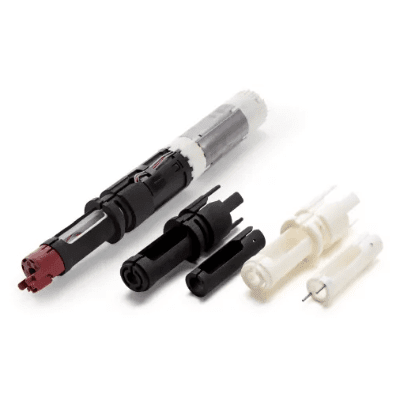 What is the Refresh Rate?
It is the ratio of a minimum amount of fresh powder needed in a mixture of material used in an SLS 3D printer. A lower refresh ratio means better cost-efficiency of the material.

The amount of needed fresh powder is automatically calculated by our software and shown on the printer screen after the print job is finished. Just add shown amount of material into the mixing cycle of used material and you can start your next job with refreshed material

To start SLS 3D printing you need the powder starter pack. After that, you'll only need to refresh the powder you own with fresh powder.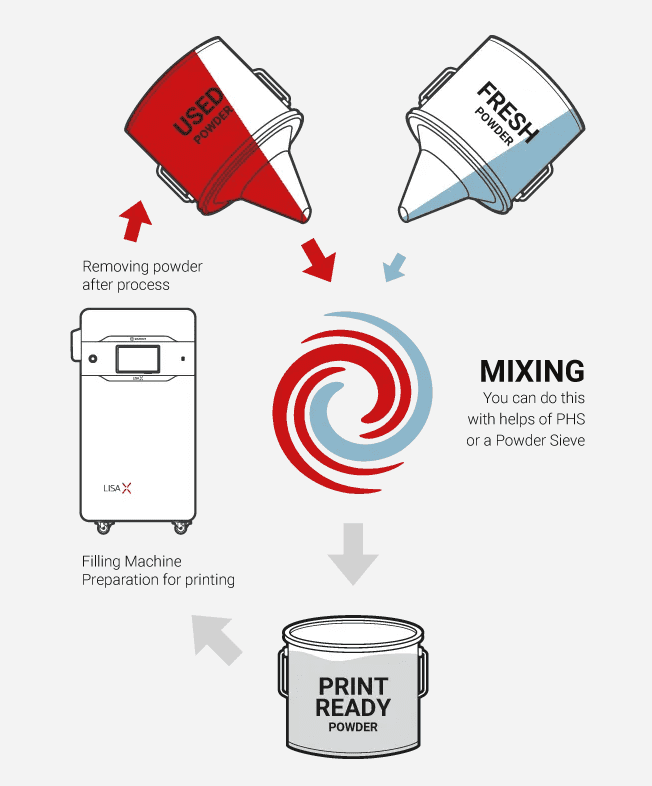 Sinterit PA11 Carbon Fiber
Dedicated for:

Lisa PRO, Lisa X, NILS 480

Software:

Sinterit Studio Advanced

Nitrogen needed:

Yes

Colour:

black

Refresh ratio:

40%

Bulk density:

540 kg/m3

Printout density:

1.09 g/cm3

Printout water absorption:

0.86 %

Melting temperature:

197 °C

Heat Deflection Temperature A at 1.8 MPa:

170 °C

Heat Deflection Temperature B at 0.45 MPa:

191 °C

Flexural Strength (X direction):

100 MPa

Flexural Modulus (X direction):

3050 MPa

Flexural Strength (Z direction):

66.1 MPa

Flexural Modulus (Z direction):

1420 MPa

Tensile Strength (X direction):

81 MPa

Tensile Modulus (X direction):

2950 MPa

Elongation at Break (X direction):

24.5 %

Tensile Strength (Z direction):

47.3 MPa

Elongation at Break (Z direction):

17.9 %

Impact Strength (Charpy - unnotched):

113.65 kJ/m2

Shore Hardeness in scale:

D81

Storage Modulus (X direction) @23 °C2:

4575 MPa

Loss Modulus (X direction) @23 °C2:

172 MPa

Storage Modulus (Z direction) @23 °C2:

3418 MPa

Loss Modulus (Z direction) @23 °C2:

105 MPa